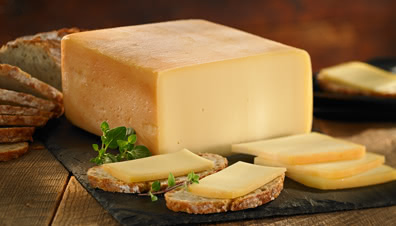 See more recipes with the Raclette des Appalaches
PLESSISVILLE TARTIFLETTE
February 23, 2015 by Fromagerie Rang 9
6 portions

55 Min.
---
Ingredients
3 lbs of Yukon Gold potatoes, peeled
200 g of pancetta, diced
Olive Oil
1 to 2 onions, chopped
450 g of Raclette des Appalaches cheese
250 ml (1 cup) dry white wine
30 ml (2 tbsp.) 15% crème fraîche
Step 1
Preheat oven to 220 °C (425 °F). Butter a Pyrex-like baking dish. Boil potatoes in salted water until tender. Let cool, then cut into thick slices.
Step 2
In a pan, lightly brown the lardons in a bit of oil. Add and sweat the onions as the lardons are browning. In the baking dish, lay out half the potatoes on the bottom, then cover with the lardon and onion mixture. Repeat this process with the remaining potatoes, lardons and onions. Then, pour the cream over it all.
Step 3
Place the cheese slices on the creamed top, then add the wine. Bake for 35 to 45 minutes, or until cheese turns golden.