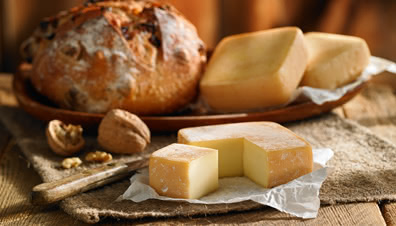 See more recipes with the Louis Dubois
LE LOUIS DUBOIS AND CRANBERRY MONTE CRISTO SANDWICH
February 23, 2015 by Fromagerie Rang 9
1 portion

10 Min.
---
Ingredients
MAKES ONE SANDWICH
2 slices of Belgian or white bread
2 slices of Black Forest ham
2 slices of smoked turkey
30 ml (2 tbsp.) cranberry jam or jelly
4 generous slices of Le Louis Dubois cheese
Butter
Step 1
Spread the butter and cranberry jam on both bread slices. Then, place two slices of cheese, one slice of ham and one slice of turkey on each bread slice.
Step 2
Assemble the sandwich. Grill it in a pan by pressing lightly on the sandwich until the cheese has melted through.
Serve immediately.