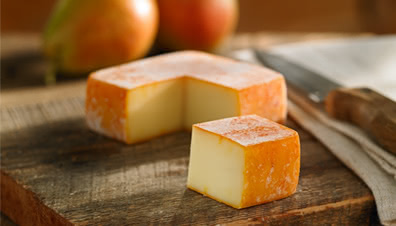 See more recipes with the Mamirolle
LEEK AND LE MAMIROLLE QUICHE
February 23, 2015 by Fromagerie Rang 9
4 portions

45 Min.
---
Ingredients
Homemade or store-bought shortcrust pastry (for 1 pie crust)
6 large leeks, white part only, washed and thinly sliced crosswise
250 ml (1 cup) 35% cream
180 ml (¾ cup) lardons
4 eggs
170 g of Le Mamirolle, grated, without the crust
Step 1: Preparing the Leek Fondue
In a pan, brown the lardons on medium heat in a bit of butter until golden. Add leeks and heat for 10 minutes on medium heat, without browning. Once tender, remove leeks from the heat and let them cool.
Step 2
In a bowl, beat the eggs and cream, then add the leek fondue and the cheese. Add salt and pepper to taste.
Step 3
Press down the dough onto a plate. With a fork, pierce the bottom of the dough. Pour the egg mixture over the dough.
Bake in the center of the oven for about 35 minutes at 190 °C (375 °F), until the quiche becomes lightly golden. Let cool for 10 minutes.