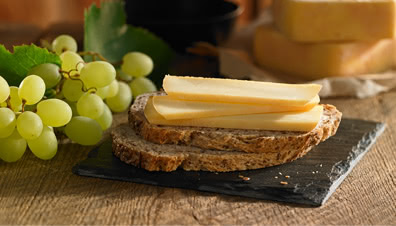 See more recipes with the Délice des Appalaches
RANG 9 MAC 'N' CHEESE
February 23, 2015 by Fromagerie Rang 9
4 portions

55 Min.
---
Ingredients
750 ml (3 cups) macaroni or other short pasta
45 ml (3 tbsp.) + 15 ml (1 tbsp.) butter
80 ml (⅓ cup) flour
1 L (4 cups) milk
15 ml (1 tbsp.) Dijon mustard
1 ml (¼ tsp.) nutmeg, grated
1 ml (¼ tsp.) salt
1 ml (¼ tsp.) ground pepper
3 dashes of Tabasco sauce
430 ml (1¾ cups) Le Délice des Appalaches cheese, grated
430 ml (1¾ cups) Le Champaître, grated
125 ml (½ cup) Panko bread crumbs
60 ml (¼ cup) parmesan cheese, grated
30 ml (2 tbsp.) snipped chives
Step 1
Preheat oven to 200 °C (400 °F). Boil pasta in large pot of salted water until al dente. Drain and set aside.
Step 2
In a large frying pan, melt butter on medium heat. Add flour and whisk for 2 minutes. Gradually add milk as you whisk until mixture is smooth. Cook for about 7 minutes, or until sauce thickens, whisking often. Mix in mustard, nutmeg, salt, pepper and Tabasco sauce. Add the two cheeses, all while mixing, and heat until they have melted.
Step 3
Add the macaroni to the sauce and mix until thoroughly coated. Pour contents into a lightly buttered oven-safe baking dish.
Step 4
In a small bowl, mix bread crumbs, chives and parmesan. Finely dice remaining butter and rub it into the bowl's contents until a sandy texture is obtained. Sprinkle the mixture onto the macaroni
Bake for 30 minutes, or until the sauce begins to bubble and the top layer begins to turn golden. Let cool for 10 minutes before serving.