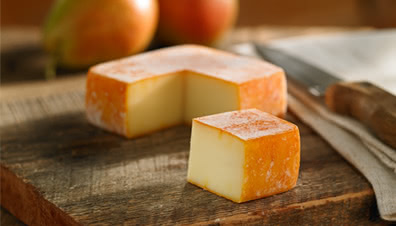 See more recipes with the Mamirolle
LE MAMIROLLE AND HAM ENDIVES GRATIN
February 23, 2015 by Fromagerie Rang 9
4 portions

30 Min.
---
Ingredients
4 small white endives heads
12 slices of Black Forest ham or regular ham
170 g of Le Mamirolle, grated, without the crust
LE MAMIROLLE BÉCHAMEL SAUCE
45 ml (3 tbsp.) butter
45 ml (3 tbsp.) flour
500 ml (2 cups) milk
1 pinch of nutmeg
2 ml (½ tsp.) salted herbs
Half the cheese, grated
Step 1: Preparing the Endive Heads
Cut the endive heads at the base with a knife before washing. Boil in salted water with lemon juice (about half a lemon's worth), for 8 to 10 minutes. Once cooked, dry in absorbent paper towel.
Step 2: Preparing the Le Mamirolle Béchamel Sauce
Prepare a roux with the butter and flour. Add boiling milk, salted herbs and nutmeg as you whisk. Add the cheese, and mix until it has completely melted. Conserve the sauce by covering the bowl in plastic wrap; this will keep the sauce warm and prevent it from developing a skin on the surface.
Step 3: Assembling and Baking the Gratin
Butter up a Pyrex-like oven-proof baking pan and preheat the oven to 190 °C (375 °F). Roll the endives into the ham slices and place them in the baking dish. Pour the sauce over the top, and finish off by sprinkling the remaining grated cheese. Bake for 20 minutes, until the cheese is clearly melted and sufficiently golden.